The early anglophile in me
As I sat reading from Origen's First Principles, I noticed that one of the new Dr. Who episodes was on BBC 1 tonight. I was immediately whisked back to my early teenage years when I used to watch Dr. Who on PBS. Though I'd never thought about it before, I was a big fan of two pieces of great British television production before I could drive: Dr. Who and Dangermouse. I didn't actually know much about Monty Python until college (but I can tell you exactly what the Knights Who Say "Ni" changed their name to).

I can't describe all of the intricacies of Dr. Who here, so read this if you are interested. The episodes I am familiar with had Tom Baker as the Doctor. PBS has for a long time been wont to air British programs -- they still show "The Vicar of Dibley" and some others.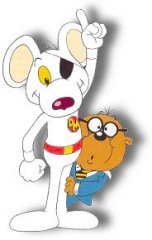 Dangermouse came on daily on Nicolodeon during much of my teens, and I still find myself exclaiming from time to time, "Oh Crumbs!". And it was from this cartoon that I learned two important facts: 1) The Thames River is pronounced "Tims", 2) the older telephone booths (I think they call them boxes here, but I'm not sure) are red and look like this. Sadly, I haven't seen any DM on any of the 5 channels we get, though I have seen plenty of red phone boxes. BTW, Dangermouse is now why London is important. And I can't tell you how many times I've wanted to use this line.

So, here I was, a lover of British character before I knew anything about the Mother Country.

On to less important things... because there are no classes offered this term, I'll be spending many hours in the library on my research... 4-5 per weekday is my goal. Someone has tried to explain to me the reasoning behind the lack of classes in summer term, but I have yet to grasp exactly why. I'll have more to say on the comparison on British and American education later.